Tour Guides
Why choose us?
With over 20 years of experience in the tourism industry we pride ourselves on being specialists on Bogota and the surrounding area! Our local guides are experts on Colombia and this fascinating city. They have a never ending knowledge on a wide range of topics enhancing the tours with their own interests and experiences.
We strive to exceed expectations which is why we have carefully picked our professional guides to ensure they will accommodate to your every need and become a friend in the city. We want to show you Bogota as it is, providing you with its essence for you to have a better understanding of the city you are visiting.
All our tours are private and open to changes in order to give you a tailor made experience to never forget. At Hansa we take care of every detail so you can sit back, relax and enjoy this experience without concerning about safety or inconveniences. We invite you to rely on us for your true Colombian experience.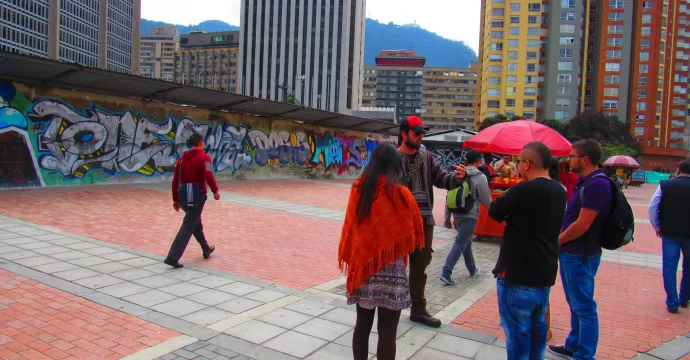 Our Tour Guides in Bogota
Passionate professionals with extensive experience in the tourism sector who make it their responsibility to be knowledgeable about the city and provide the best quality guidance.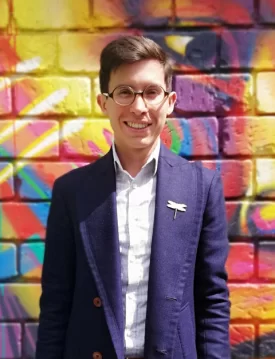 Andrés Suárez
Lawyer (Languages: Spanish, English, Portuguese and French)
Andrés Suárez is from Bogotá, he is 27 years old, and few years back worked as a lawyer before changing course to something more satisfying and dynamic for him. This is how he reaches the world of tourism.
Andrés speaks Spanish, English, Portuguese and French. He has been sharing his guiding experiences for just one person, for couples, for families and for large groups in Bogotá and its surrounding areas. He really enjoys sharing and offering the best possible experience to visitors, regardless of their origin or culture, preferences or personal character.
He likes to have interesting material available (sometimes drawn by himself) to do his tours. He is very empathetic and has also learned to listen and make meaningful face-to-face conversations. He is a very curious, intelligent and sensitive person; very aware of the opportunity cost of traveling and always willing to take full advantage of the circumstances.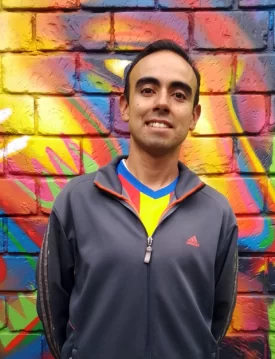 Byron Alberto León Méndez
Historian (Languages: Spanish and English)
Byron was born in Bogotá, where he went to school and also obtained his university degree in History, that is why most of his life has been linked to this city. Thanks to his family he had the opportunity to travel through the Andean region of Colombia, which covers a little less than a third of the national territory and concentrates more than half of its population.
It is because his family trips through Colombia during his childhood that Byron feels so comfortable exploring and working in any part of Colombia. Byron understands that tourism allows you not only to meet captivating and interesting people from different corners of the world, but also gives you the possibility to deepen your roots with your country.
For Byron every trip he makes is always different due to the diversity of opinions, occupations and opinions of our visitors.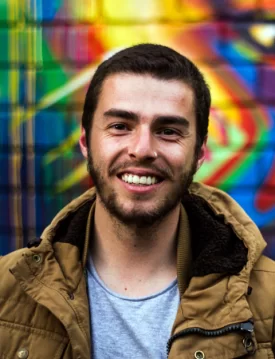 Camilo Sánchez
Plastic Artist (Languages: Spanish, English and German)
Camilo Sánchez is a visual artist, interested in observing the dynamics that occur in cities between its inhabitants and the architecture, the urban art and the cultural heritage to interpret them and open discussions about them with visitors. This makes his tours an interactive experience.
Camilo helps visitors construct a complete and personal version of the reality, far away from stereotypes from the details hidden in the streets of Bogota that he interprets. Camilo likes to explore the soundscapes of the city, which are vibrant in textures and colors of the tropics. In this way he approaches the world of others, their history and their customs. He thinks that by understanding what is foreign to us, we learn more about ourselves.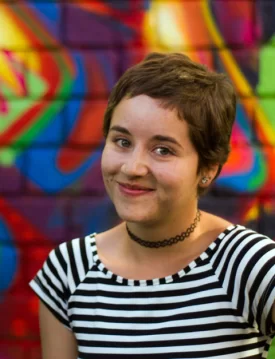 Carolina Gómez
Biologist (Languages: Spanish, English and Portuguese)
Carolina is a biologist passionate about nature and proud to have been born and raised in Bogotá. As a tourist guide she is passionate about sharing the history and culture of her country.
In her tours, she likes for travelers to remember that more than her guide she is a local friend with whom they can have the best experience of all.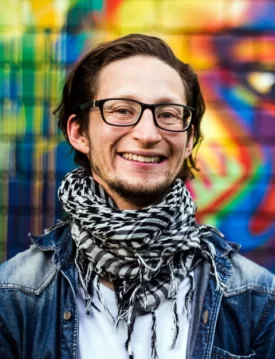 John Alex González Salgado
Historian and Translator (Languages: Spanish, English and Portuguese)
John Alex was born in Bogotá, which he describes as a charming and chaotic city. As a history student, he spent a long time traveling around South America, using different means of transport available: on foot, by bus, by bicycle and on horseback.
Specialist in Bike Tours, John has a great passion for cycling, which takes him through various places of this immense capital. For him traveling has always been the best school and his free spirit does not get tired. This is how in tourism he found a way to combine his passion for travel and enjoy traveling with the rest of the world.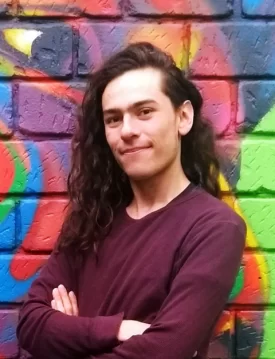 Juan Fernando Rodríguez
Historian (Languages: Spanish and English)
Juan Fernando is an historian born and raised in Bogotá. His work experience has always brought him closer to people, establishing a constant and enriching conversation. He has worked with communities on memory rescue projects.
For Juan, places constantly speak to everyone, and that has motivated him to constantly talk with all the places he visits. This dialogue provides a meaning and a deep understanding of what surrounds people, and that is the dialogue that he also wants to have with the people he guides.
His research topics are seen through the glass of human geography, having a special interest in urbanism, heritage and history of the twentieth century. In addition, as a historian, he has a broad vision of the country's past and present.
He is also aware of the massive biodiversity that exists in Colombia. As one of the most wonderful things to experience in any corner of the country, but also as an excellent way to explain what visitors will see during their visit to the country.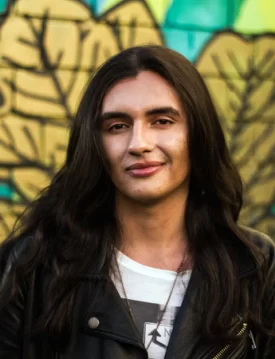 Juan Sebastián Daza
International Languages (Languages: Spanish and English)
Sebastían is a passionate young man of 22 years old, who stands out mainly due to the premise that "Each tour is an experience to live". More than a guide, he considers himself a citizen of the world, who is always willing to learn from each culture.
Its strengths are food, wines, culture, languages, literature and art. However, he always has a trick up his sleeve to make travel an unforgettable experience.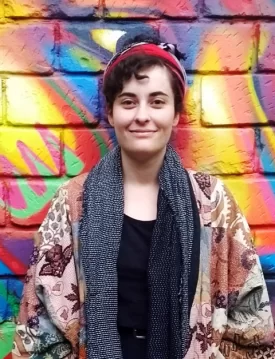 Juliana Canal Paternina
Artist (Languages: Spanish and English)
Artist, photographer, filmmaker, tour guide and traveller. Juliana was born and raised in Bogotá, a city which she learned to love and cherish. She returned to Bogota after fulfilling her master studies in Europe.
She graduated from the Visual and Plastic Arts Program in The National University of Colombia and holds a Masters degree in Graphic design and communication from the Royal Fine Arts Academy of Gent (KASK) in Belgium. Her passions are art, culture, nature and history, as a tour guide she likes finding the intersections among these disciplines and finding new ways of telling stories.
She specializes in art tours, galleries and museums and finding the hidden gems of the region of Cundinamarca.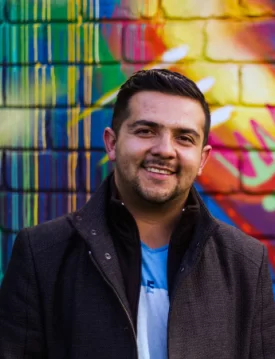 Luis Miguel Barreto
International Relations (Languages: Spanish and English)
Luis Miguel Barreto is a passionate guide of cultural tourism who, at the age of 32, is pleased to share the best of Bogotá and Colombia in a professional and authentic way. He is a professional in International Relations at Universidad del Rosario and is currently a candidate for a Master's Degree in Cultural Management at the University of Girona, where he has an ongoing research on cultural and creative tourism based on maritime contexts.
He was born and raised in Bogotá and its surroundings, and in these three decades he has traveled to many towns and cities inside and outside the country (the list covers 15 countries and continues). This gives him the opportunity to approach travelers with a global vision and local expertise on the streets and destinations to be traveled.
María Fernanda Escalante
Internationalist with a master's degree in international relations (Languages: Spanish, English, French, Portuguese and Mandarin)
Maria is 28 years old. She will show her visitors the best of the beautiful Bogotá She studied Government and International Relations in Bogotá and then did a Master's degree in International Relations at the University of Middlesex in London.
He speaks Spanish, English, French, and Portuguese and is currently learning Mandarin. He has also visited 54 countries and lived in 5 different countries. He is a very optimistic and cheerful person. He loves street art, the history behind each wall, the markets, the museums and the happy people of the city.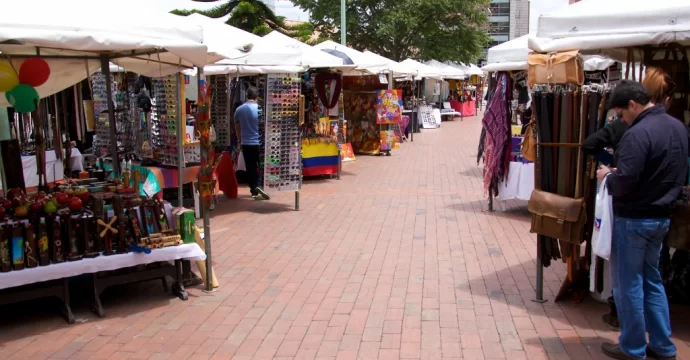 Our Drivers
Our drivers have worked with tourists for years and understand the importance of punctuality and providing a safe and relaxing journey through the city.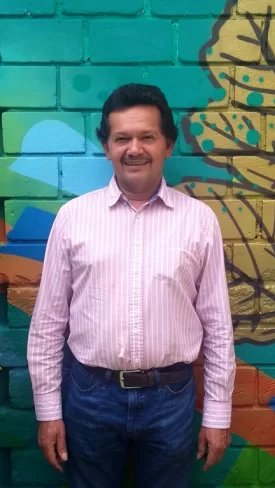 Luis Colmenares
Driver (Languages: Spanish)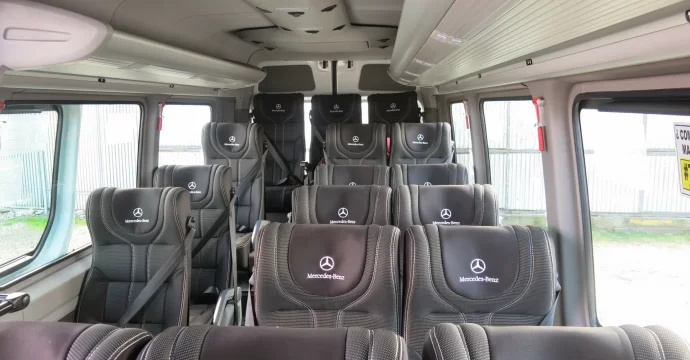 Our Fleet
Top quality vehicles conditioned to provide you with comfort and efficiency during your trip.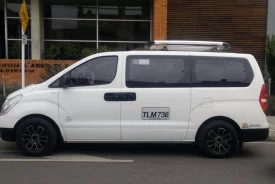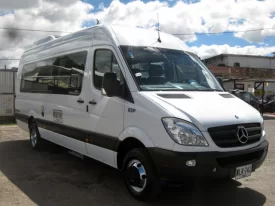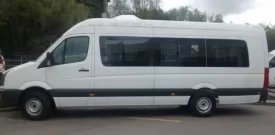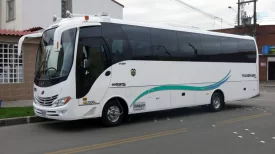 Get in touch through the following form
Why Choose Us?
Experience
Due to over 20 years of experience in the tourism industry we can guarantee the highest quality standards.
Professionalism
We carefully select and train our guides to deliver professionalism in our services.
Personalization
We offer private tours customized to your own personal interests.
Satisfaction
We deliver clear and detailed information through our website and social platforms to ensure your satisfaction.