The heritage of our artisans and farmers
Get acquainted with the city of Bogota through its handcrafts, products that comes from the ancestral heritage of the indigenous and farmers in Colombia. In indigenous areas, artisan production is a very important activity and perhaps the only one through which value is generated for exchange.
Visit the handicrafts from the Rivas passage, the handicrafts shop in Colombia, the Doris Ortiz store and the handicrafts located close to the Gold Museum.
Souvenir, memento, handmade are words that remind us of a marvelous trip in an object. Colombia means color, life, nature and joy and the beautiful handicrafts made by its artisans encompass all of these. Submerge yourself in this tour to get to know the masters that put all that this country is, in their uniquely Colombian mochilas, vases, hats, decorations and ornaments.
Duration:
From
5 to 6
hrs.
Contact us to know all the information about this incredible Handicrafts tour and let yourself be involved in everything this paradise has to offer.
What restrictions and recommendations are in place to handle Covid 19 in Colombia?
As of September 6 2021 you don´t need to have a negative covid test nor be vaccinated to enter the country.
You should wear a facemask in public places and specially inside most museums.
As much as it is possible you should distance yourself at least 2 meters from other people.
All our guides and private transportation have the necessary biosecurity measures.
Itinerary and route map of the colombian handicrafts tour
5 hours tour:

Pick Up: Hotel/Your address.
Visit to Pasaje Rivas.
Visit to Artesanías de Colombia.
Visit to Doris Ortiz.
Pasaje de artesanías close to Gold Museum.
Return: Hotel/Your address.

6 hours tour:

Pick Up: Hotel/Your address.
Visit to Pasaje Rivas.
Visit to Artesanías de Colombia.
Visit to Doris Ortiz.
Pasaje de artesanías close to Gold Museum.
Lunch in a typical restaurant.
Return: Hotel/Your address.
Dates and Times
Every day
Suggested departure time: 9:00am
What is included in the Colombian Handicrafts Tour?
5 hours tour:

Private bilingual guide
Private transportation
Water bottles
Snack

6 hour tour:

Includes lunch with non-alcoholic drink
Important Information
Use sunscreen.
Report any type of allergy or food restriction.
Do not forget to bring a copy of identification documents or passport.
Cap, Water and comfortable shoes.
Most of stores and malls open at 10:00am.
Available for people with disabilities.
Level of physical requirement - Rating from 1 to 5 (1 super easy - 5 very demanding): 2
Available Languages - Guide:

Spanish
English
French
Mandarin
Italian
Japanese
German
Russian, japanese, chinese and korean available for additional cost.

Recommended for children older than 2 years.
FAQs
Is the tour private or is the tour with more people?
- Private.
Can you modify the tour itinerary and the duration time at each stop?
- The tour can be totally modified according to the client's preference.
How long in advance can a tour be booked?
- Minimum three hours in advance.
How to book our Colombian Handicrafts Tour?
You can book this experience, using our secure booking engine.
Colombian Handicrafts Tour Price List
*Tour prices per person in USD.
| | | |
| --- | --- | --- |
| Pax. | 5 hours | 6 hours |
| 1 | 139USD | 199USD |
| 2 | 79USD | 119USD |
| 3 | 69USD | 109USD |
| 4 | 59USD | 99USD |
| 5 | 49USD | 89USD |
| 6 or more | 39USD | 89USD |
Payment Method and Cancellation Policy
Payment method: you can pay in cash (COP or USD) or by credit card.
All foreign customers must show a copy of their passport to be exempted from the VAT tax.
The service must be canceled at least 24 hours before the client's pick-up time. If you do not notify in advance, 50% of the total value of the service is charged.
Children between 0 and 1 do not pay, children between 2 to 12 must pay 50% of the rate.
Enjoy our Colombian Handicrafts Tour
If you prefer get in touch through the following form
Look what people say about our tours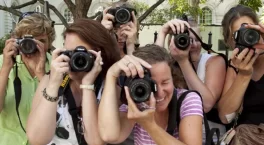 The unforgettable experiences of our clients
This is what our clients who have experienced incredible tours in Bogota say. Thank you all for your reviews and for trusting Hansa Tours.
Jess M.
"By the end of the week, I felt I'd made a new friend and was leaving a city I had fallen in love with. If and when we get to go back, I'll be asking Daniel to take us to more sites and share more of his favorite places with us. I can't adequately express how much his time and dedication to our trip meant to me. Absolutely wonderful tour guide."
Why Choose Us?
Experience
Due to over 20 years of experience in the tourism industry we can guarantee the highest quality standards.
Professionalism
We carefully select and train our guides to deliver professionalism in our services.
Personalization
We offer private tours customized to your own personal interests.
Satisfaction
We deliver clear and detailed information through our website and social platforms to ensure your satisfaction.