Get to experience all the best sights of the Medellín city
During this tour, get to see the awe-inspiring social, cultural and architectural transformation that this city has experienced over the past twenty years.
In the first part of this tour, get expansive views of the city from places like: Poblado park, Ruta Milla de Oro, Lleras park, Metropolitan Cathedral, Pueblito Paisa at Nutibara hill, Barefoot park, Carabobo, San Antonio park. Then onto Master Botero's sculptures park (here we will enter the Antioquia museum to see some more of master Botero's art) where the guide´s narration will lead you to his most iconic works, his life, his travels and stays in Europe and the social aspects of his paintings and sculptures.
Continue on to the Botanical garden, the perfect spot to take a breather from the hustle and bustle of the city, and exemplify social transformation through infrastructure and education and to recharge for the second part of the tour.
On the second part of the tour, the social function of innovation, infrastructure and education will be portrayed.Visit Comuna 13. To get there we take the Metrocable. This gives us a chance to glimpse the governmental initiative called "Techo de cuento" which are roofs and houses painted with enormous graffiti. There in Comuna 13 we will be joined by a local artist. Also visit the escalators, one of the most meaningful infrastructure projects for the social transformation of the city.
Itinerary and route map of the Medellin full day city tour
You can tailor your tour depending on your time and interests. Allow us to suggest the best options for a great time.
Departure from: Hotel/Address in the city
Poblado park.
Milla de Oro.
Lleras park
Metropolitan Cathedral
Pueblito Paisa, Cerro Nutibara.
Barefoot park.
Carabobo
San Antonio park
Sculpture park.
Antioquia museum.
Comuna 13
Return to: Hotel/Address
Dates and Times
Suggested departure time: 8:00 am
Available all year round, every day (unless indicated otherwise).
The Antioquia Museum is closed on Sundays. It is replaced by the Museum of Memory if the tour takes place on Sundays.
What is included in the Medellin full day city tour?
Specialized tour guide (bilingual Spanish - English).
Private transport.
Entrance fee to metro and cable car.
Typical lunch.
Medical insurance.
Hydration.
Snack (mango ice cream).
Local guide at Comuna 13.
*Not Included

Other meals.
Non-specified expenditures.
Tips.
Important Information
Comfortable clothing, hat, sunglasses.
Sun screen
Physical exertion: 7-80 years old.
We recommend to use a poncho or umbrella if the forecast predicts rain.
Please tell us about any allergies and dietary restrictions.
During the high tourist season at Pueblito Paisa they don't allow vehicles to climb up the hill, this means that a 1 kilometer walk (15 minutes) on an incline must be done to get to the sight. This is not recommended for people with mobility issues.
This tour is ideal for anyone who wants to see the most important sights of the city.
This is a safe and private tour so you feel comfortable walking through the city.
This is a suggested itinerary. Whatever you wish to visit we can plan it for you!
Our guides are local and have been thoroughly trained to share their deep knowledge of the city.
Travel insurance (while on tour) is included in the price of all or tours in the unlikely event of an accident.
Available languages - Guides:

Spanish
English
French
German
Portuguese
Italian
How to book this Medellin full day city tour?
You can book this experience, using our secure booking engine.
Medellin full day city tour price list
*Tour prices per person in USD.
| | |
| --- | --- |
| Pax. | 8 hrs |
| 1 | 289 |
| 2 | 169 |
| 3 | 129 |
| 4 | 109 |
| 5 | 99 |
| 6 or more | 89 |
Payment Method and Cancellation Policy
For payment: You may pay in Cash or Credit card. (COP or USD)
All foreign travelers must present and share a copy of their passport to be exempt of the VAT charge.
In the event of wanting to cancel the tour, this must be done at least 24 hours before the pick-up time, or else a 50% fee from the tour price shall be charged.
Children younger than 1 are not charged. Children between 2 and 12 years old shall be charged 50% of the tour price.
Enjoy our Medellin Full Day City Tour
If you prefer get in touch through the following form
Look what people say about our tours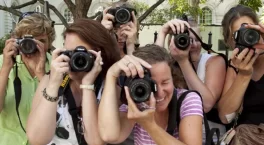 The unforgettable experiences of our clients
This is what our clients who have experienced incredible tours in Bogota say. Thank you all for your reviews and for trusting Hansa Tours.
markie marc
"Our guide, Marcello, gave us a fantastic tour, his knowledge about the city of Bogota is admirable. Thanks to him we had a wonderful and memorable day!"
Why Choose Us?
Experience
Due to over 20 years of experience in the tourism industry we can guarantee the highest quality standards.
Professionalism
We carefully select and train our guides to deliver professionalism in our services.
Personalization
We offer private tours customized to your own personal interests.
Satisfaction
We deliver clear and detailed information through our website and social platforms to ensure your satisfaction.