Experience the smells and flavors of the Colombian countryside.
The favors of Colombia are better experienced when you see the shapes of the fruits when you taste the sweetness of a juice when you smell the many herbs, and all of this can be enjoyed as soon as you set foot inside a typical local market. Since before sunrise trucks full of amazing products from the countryside flood the local markets of the city, like the Paloquemao market.
Colombia has a privileged location in the Tropic with a wide variety of climates. Bogotá´s plateau and the areas surrounding it allow for the growth of all kinds of different products. At the Paloquemao market, with over 50 years of history, get to know the meaning of the words: "product of Colombia". All kinds of different markets are gathered here. Fruits, vegetables, medicinal herbs, flowers, fish, poultry, meats, seafood, and prepared foods in one spectacular cornucopia of colors smells, and flavors.
Our tour is led by a professional bilingual tour guide that has great knowledge of the market and will lead you through the maze taking you to the best places in tune with your personal interests. Go to the market in your own private transport that will pick you up at your Hotel or place of stay and will drop you off in the market, and then take you back to your place of stay. It´s recommended to do this tour in the morning as the flower market starts at sunrise and closes at around 10 a.m. and you shouldn´t miss the opportunity to watch and buy export quality flowers.
If you are in Bogotá, our tour to the Paloquemao market is a must. It could be the perfect start for a day tour as it is perfectly located to enjoy other major sights that the city has to offer and is quick and easy to get to. Enjoy typical Colombian flavors like amazing fruits and avocados, a plate of stuffed pork, a Tamal, or other Colombian traditional snacks like: yucca bread, pan de bono, almojábana, among others.
What restrictions and recommendations are in place to handle Covid 19 in Colombia?
As of September 6 2021 you don´t need to have a negative covid test nor be vaccinated to enter the country.
You should wear a facemask in public places and specially inside most museums.
As much as it is possible you should distance yourself at least 2 meters from other people.
All our guides and private transportation have the necessary biosecurity measures.
Itinerary and route map of the Paloquemao tour
Pick up: Hotel/Your adress
Visit to Paloquemao Square
Tasting of different flavors of typical fruits
Tasting of juices
View of local crafts
Drop Off: Hotel/Your address
Dates and Times
Every day
Suggested departure time: From 7:00 am
Paloquemao express tour includes:
Private bilingual guide
Private transportation
Water bottles
Important Information
Cap, Water and comfortable shoes.
Ask about the typical fruits of Colombia.
Available with assistance for people with disabilities.
Level of physical requirement - Rating from 1 to 5 (1 super easy - 5 very demanding): 1
Available Languages - Guide:

Spanish
English
French
Mandarin
Italian
Japanese
German
Russian, japanese, chinese and korean available for additional cost.

Recommended for children over 2 years.
FAQs
Is the tour private or shared?
- Private.
Can you modify the tour itinerary and the duration time at each stop?
- The tour can be totally modified according to the client's preference.
How long in advance can a tour be booked?
- Minimum three hours in advance.
How to book our Paloquemao Express Tour?
You can book this experience, using our secure booking engine.
Paloquemao tour price list
*Tour prices per person in USD
| | |
| --- | --- |
| Pax. | 3 hours |
| 1 Person | 109 USD |
| 2 Persons | 59 USD |
| 3 Persons | 49 USD |
| 4 Persons | 39 USD |
| 5 Persons | 29 USD |
| 6 Persons | 25 USD |
| 7 Persons | 19 USD |
Payment Method and Cancellation Policy
Payment method: you can pay in cash (COP or USD) or by credit card.
All foreign customers must show a copy of their passport to be exempted from the VAT tax.
The service must be canceled at least 24 hours before the client's pick-up time. If you do not notify in advance, 50% of the total value of the service is charged.
Children between 0 and 1 do not pay, children between 2 to 12 must pay 50% of the rate.
Enjoy our Paloquemao Express Tour
If you prefer get in touch through the following form
Look what people say about our tours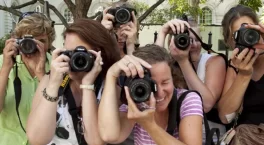 The unforgettable experiences of our clients
This is what our clients who have experienced incredible tours in Bogota say. Thank you all for your reviews and for trusting Hansa Tours.
Jess M.
"By the end of the week, I felt I'd made a new friend and was leaving a city I had fallen in love with. If and when we get to go back, I'll be asking Daniel to take us to more sites and share more of his favorite places with us. I can't adequately express how much his time and dedication to our trip meant to me. Absolutely wonderful tour guide."
Why Choose Us?
Experience
Due to over 20 years of experience in the tourism industry we can guarantee the highest quality standards.
Professionalism
We carefully select and train our guides to deliver professionalism in our services.
Personalization
We offer private tours customized to your own personal interests.
Satisfaction
We deliver clear and detailed information through our website and social platforms to ensure your satisfaction.