More than 15 years of experience designing luxury trips in Colombia
At Hansa, we got a unique VIP tailor-made tours and experiences in Colombia for you. From north to south, east to west. Bogotá, Medellin, Cartagena, Cali, San Andres Island, the Amazon and many destinations more. We embrace diversity, so our tours are designed for everyone regardless of age, physical condition, sexual identity, religion or political thoughts.
We offer unique experiences out of the ordinary such as tours where you will: pick up your coffee, extract honey from a honeycomb, prepare a local dish with a top chef and even go on a ride in a hot air balloon and so much more! At Hansa, we got you covered from day one until your last day in Colombia with customer service support from 7 am to 10 pm.
Do not hesitate to share with us your preferences, tentative travel dates, accommodation needs, alimentary restrictions, number of travelers and any suggestions, so we can prepare the experience for you. Continue reading and submit your preferences to live the best experiences.
What restrictions and recommendations are in place to handle Covid 19 in Colombia?
As of September 6 2021 you don´t need to have a negative covid test nor be vaccinated to enter the country.
You should wear a facemask in public places and specially inside most museums.
As much as it is possible you should distance yourself at least 2 meters from other people.
All our guides and private transportation have the necessary biosecurity measures.
Our feature product is Hansa Tailored Made Experience. It consists in a trip based on your needs, preferences, budget and travel dates. From time to time, it becomes difficult to arrange flights, lodgings, activities and bookings.
Thanks to our VIP tailored made travel you will never have to worry about any of these since we will do everything for you before your arrival and after your departure.
Hansa Tailored Made Experience has been in the market for more than 15 years and keeps offering the most unique trips in Colombia. We are very proud of our reviews and travelers´ satisfaction level, this shows we are doing great and we are willing to make you experience it by our hand.
Our budgeting starts from a middle trip to luxury one. Regardless price at Hansa we will make as much as we could, so you will have the best memories of your Colombia visit. Our main goal is to make you travel around the country as a trendsetter or as a local doing things you never thought you will do, we aim at developing environmental and cultural responsible tourism, so we can minimize our impact on the land.
Last but not least, we do not offer you a set of activities, we offer you a one lifetime experience by costuming your trip as much as you would like to.
Cartagena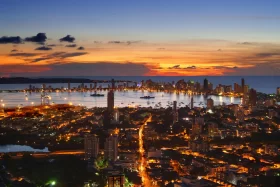 Cartagena is full of interesting touristic destinations that show different angles of the city, history and society. Out of these, probably the most interesting sites to see is the walled city center. This area gathers the biggest number of restaurants, museums, parks and historical buildings. You will visit the colonial district: Bolivar Park, Gold Museum, Inquisition Palace, Santo Domingo church and square, the Cathedral, Terraces and City Fortifications Museum.
Totumo Mud Volcano
The Totumo Mud Volcano atraction is an option for families with young kids or for those who are looking for an alternative to the usual structure of a tour. Here you will submerge yourself in mud and experience an alternative spa. The tour will incorporate a visit to a traditional fishing village and later go to the volcano: a natural wonder you will be telling your friends and family about and an experience that not many people get to have!
La Boquilla
This destination will show you a different side of Cartagena, this is an opportunity for you to see the less fortunate side of the most touristic city in Colombia. You will explore the mangroves forests of Cartagena in a kayak as well as visit the community who lives around these forests. This tour has a strong social component, in which you will understand the difficulties some people in the outskirts of Cartagena have, while, at the same time, you will explore this unique and beautiful ecosystem. Culture, wildlife, scenery and local food are all aspects of this unique visit designed specially to show you some of the real Colombia!
Medellín and surroundings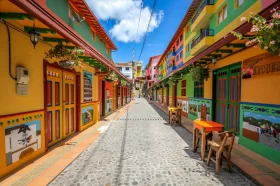 Art and culture are alive and growing throughout Latin America, and Medellin isn't an exception. This city has had an impressive growth in terms of positioning itself as a hotspot for culture, fashion, music and gastronomy. Don't leave the city of eternal spring without seeing everything! Join us in exploring the entire city through its must-see cultural places, understanding its origins, goals and development.
Guatape
Guatape is the biggest attraction in the Medellin outskirts. Only 2 hours away from the city you will find this magical place with a water reserve called Guatape. Right here, you will have the chance to enjoy a truly unique rock, where you can climb up to get an aerial view of the surreal surrounding landscape. During this same experience we can also offer the option to have a boat ride by the water reserve, visit the colorful town of Guatape and enjoy lunch at a typical restaurant.
Santa Fe de Antioquia
Santa Fe de Antioquia is a municipality located in northwestern Colombia. It is famous for its colonial buildings, cobbled streets and tamarind sweets. The bridge of the West, of the nineteenth century, designed in wood and steel by Santa Fe engineer Jose María Villa (who also worked on the Brooklyn Bridge), is suspended over the Cauca River, northeast of the town. Don't miss this tour as a chance to get to know all these wonderful places by the side of an expert guide.
Medellin Social Transformation
This experience will be essential in providing you with knowledgable information on the process the city went through in order to pass from being in the top 10 most dangerous cities in the world, in the early 80s, to becoming a touristic highlight of South America. On this tour you will visit the House Museum of Memory, La Comuna 13 – a place that evidenced the beginning of the social transformation of the city (here we will be accompanied by a local guide), you will experience the Metro and Metro Cable, then the public escalators, gastronomic tasting, and you will have a social experience at a hip hop school and a local library.
Santa Marta
Get to know one of Colombia's most fascinating cities! Steeped in history and culture, you'll leave with a greater appreciation of this country and it's fascinating, turbulent past. Santa Marta is a busy portal city that was once the first Spanish settlement in Colombia. It is a city where diversity is present in its territory, in its people and in every cultural aspect it encompasses, it is a destination that welcomes all its visitors and makes them feel at home.
Taironaka
This town is located in what was once an ancient Tairona city; the archaeological remains are there for the enjoyment of visitors. To cross the stone paths, the terraces, stairs and drainages is to return to the past of this great culture. Its pottery and lithic pieces can be seen in the Museum. In addition to the past Tairona, and the restaurant, we offer ecological hiking, activities on the river and interaction with the indigenous Kogi, descendants of the Taironas.
Tayrona National Park
The Tayrona Natural National Park is known for its coves lined with palm trees, coastal lagoons, tropical forests and its rich biodiversity. Towards the center of the park, you can find the ruins of Pueblito, an archaeological complex that is accessed through forest roads and has terraces and structures built by the Tayrona civilization. If you want a taste of the Caribbean, don't miss out on this truly unique national park!
Please submit your preferences in the following form and let us tailor an unforgettable experience.
Enjoy our tailor made tours
Get in touch through the following form
You may be interested in more
The unforgettable experiences of our clients
This is what our clients who have experienced incredible tours in Bogota say. Thank you all for your reviews and for trusting Hansa Tours.
Jess M.
"By the end of the week, I felt I'd made a new friend and was leaving a city I had fallen in love with. If and when we get to go back, I'll be asking Daniel to take us to more sites and share more of his favorite places with us. I can't adequately express how much his time and dedication to our trip meant to me. Absolutely wonderful tour guide."
Why Choose Us?
Experience
Due to over 20 years of experience in the tourism industry we can guarantee the highest quality standards.
Professionalism
We carefully select and train our guides to deliver professionalism in our services.
Personalization
We offer private tours customized to your own personal interests.
Satisfaction
We deliver clear and detailed information through our website and social platforms to ensure your satisfaction.