Tips to Visit Bogota
Being a tourist in a place you visit for the first time can be a little overwhelming at first. For that reason, and to make your life easier, here we give you a series of our best tips so that your trip to Bogota becomes an effortless experience of everything you ever dreamed.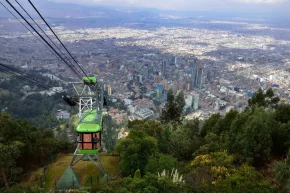 General information
Department: Cundinamarca
Official Language: Spanish
President of the Republic: Ivan Duque Marquez
Official Currency: Colombian Peso
Code for Calls: +57 1
Some advice
Colombia does not ask you for a visa to enter the country.
When you arrive to Bogota, locate your hotel and the central points that will serve as a reference in the city. Also recognize the main roads, restaurants, shopping centers and public transport near your location.
Bogota is an economic city. According to your needs and preferences you can find a wide range of prices you have to choose from.
The main public transport in Bogota is Transmilenio. You can use it to move around the city bybuying a card at the station and charging it with the number of trips you will use. Everytime you exit a transmilenio station your "trip" will end and you will have to pay a new trip to get into the stations again.
If what you are looking for is a specific tour of the touristic places of Bogota and to know by the hand of a bilingual guide the whole history of the city, we recommend that you visit our Tours in Bogota section. You will not want to miss them!
Security in Bogota has improved a lot in the past few years. However, it is important that you are careful, that you carry with you the cash that is strictly necessary, that you try to walk on busy roads during the night time and that you do not have any valuable objects in sight. No person, police officer or public official has the right to ask for your passport or documentation in the street, nor ask you to accompany him or her anywhere.
We hope that these tips can be of great help when visiting this beautiful city and make this trip an unforgettable one.