Winged jewels galore
Enjoy watching dozens of different species of hummingbirds, experience their amazing and frantic lifestyle in one place. Original to the American continent, hummingbirds are considered to be the most attractive and exotic birds in the world.
Colombia has a lot to say about hummingbirds, being the nation with the most species. In a rural area near the town of La Calera and around an hour and a half away by car from Bogotá is the astonishing Hummingbird Observatory. A place where you will be stimulated by the vivid colors and unique sounds of these majestic creatures.
Feel them flapping their wings near you as they are feeding from the flowers in a beautiful garden. With some luck you may even get to see the legendary sword-billed hummingbird, whose beak is longer than its body.
Led by our expert bilingual guides, we learn about the main characteristics of hummingbirds and specifically of the many different species found in the Observatory. Also learn about the importance of these birds for the ecosystem they live in and about the splendid conservation endeavor that is being done by the family who started and runs the project.
Enjoy a delicious snack in the Observatory and maybe compliment it with a typical treat from the town of La Calera. Depending on your interests and needs you may want to add a City Tour of Bogotá or a Tour to the towns near the city. Always having a comfortable and safe private transport at your disposal.
Hansa Tours and the Hummingbird Observatory, a Colombian treasure for you to find!
What restrictions and recommendations are in place to handle Covid 19 in Colombia?
As of September 6 2021 you don´t need to have a negative covid test nor be vaccinated to enter the country.
You should wear a facemask in public places and specially inside most museums.
As much as it is possible you should distance yourself at least 2 meters from other people.
All our guides and private transportation have the necessary biosecurity measures.
Itinerary and route map of the hummingbird watching tour
Pick up: Hotel / Your address.
Visit to the hummingbirds observatory.
Bird watching.
Photography.
Use of green areas, taste of local gastronomy (snack).
Drop Off: Hotel / Your address.
Dates and Times
Open Tuesday to Saturday from 09:00 to 4:00 p.m.
Not available on sundays and mondays.
Suggested departure time: From 8:30 am
What is included in the hummingbird watching tour?
Private transportation
Private bilingual guide
Entry tickets to the Observatory
Snacks
Water bottles
Important Information
Use sunscreen. Bring waterproof clothing for cold weather.
Bring binoculars.
It is suggested to bring photographic equipment. The use of flash is prohibited.
Report any type of allergy or food restriction.
Do not forget to bring a copy of identification documents or passport.
Cap, Water and comfortable shoes.
Ask about the picnic service, art workshop, accommodation overnight.
Available with assistance for people with disabilities.
Level of physical requirement - Rating from 1 to 5 (1 super easy - 5 very demanding): 2
Available Languages - Guide:

Spanish
English
French
Mandarin
Italian
Japanese
German
Russian, japanese, chinese and korean available for additional cost.

Recommended for children older than 2 years.
FAQs
Is the tour private or is the tour with more people?
- Private.
Can you modify the tour itinerary and the duration time at each stop?
- The tour can be totally modified according to the client's preference.
How long in advance can a tour be booked?
- Minimum three (3) hours in advance.
How to book our hummingbird watching tour?
You can book this experience, using our secure booking engine.
Hummingbird watching tour price list
*Tour prices per person in USD
| | |
| --- | --- |
| Pax. | 4 hours |
| 1 | 119USD |
| 2 | 79USD |
| 3 | 69USD |
| 4 | 59USD |
| 5 | 49USD |
| 6 or more | 42USD |
Payment Method and Cancellation Policy
Payment method: you can pay in cash (COP or USD) or by credit card.
All foreign customers must show a copy of their passport to be exempted from the VAT tax.
The service must be canceled at least 24 hours before the client's pick-up time. If you do not notify in advance, 50% of the total value of the service is charged.
Children between 0 and 1 do not pay, children between 2 to 12 must pay 50% of the rate.
Enjoy our Hummingbird Watching Tour
If you prefer get in touch through the following form
Look what people say about our tours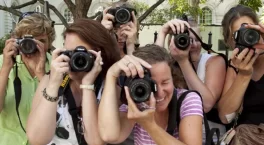 The unforgettable experiences of our clients
This is what our clients who have experienced incredible tours in Bogota say. Thank you all for your reviews and for trusting Hansa Tours.
markie marc
"Our guide, Marcello, gave us a fantastic tour, his knowledge about the city of Bogota is admirable. Thanks to him we had a wonderful and memorable day!"
Why Choose Us?
Experience
Due to over 20 years of experience in the tourism industry we can guarantee the highest quality standards.
Professionalism
We carefully select and train our guides to deliver professionalism in our services.
Personalization
We offer private tours customized to your own personal interests.
Satisfaction
We deliver clear and detailed information through our website and social platforms to ensure your satisfaction.